A city getaway with Vivien Canadas? Exactly what we wanted.
Having just graduated from the 2021 MA Fashion Design program of Central Saint Martins, you already know Vivien Canadas is one to keep an eye on. The French designer is indeed quite a phenomenon. Long story short, after studying Political Science in Paris and moving to the US to learn design, Vivien wound up designing for Maison Margiela's Ready-to-Wear collection. He went back to school, and recently presented his graduation collection. We wanted more. His monochromatic dream is pleasing for the eyes and worthy of resharing. I'm on Instagram, double tapping all his looks, if anyone is looking for me.
Fräulein: What are the inspirations behind your collection?
Vivien Canadas: My collection is called "A Sip of Fresh Air." It all started from an observation on the past century: humanity has totally transformed its natural habitat by escaping the countryside for the benefit of the City. I said to myself lately, and especially since the start of the pandemic, that we have started to build a fantasy around this idea of a "simple life" in the countryside, to be more respectful of our environment. It was a bit of the starting point for this collection to ask myself how this fascination with the countryside redefines the concept of modernity, and how these two elements coexist. I created this collection as an invitation to travel, to a city getaway.
The wish to recreate the movement of the wind caught in a garment, like someone caught in a storm, to recreate the volume that happens when the wind catches a skirt or a garment and the garment is pushed onto the front of the body. In a way, I wanted to reiterate our temperamental relationship to the elements. Air, the wind. I created those full skirts with big volumes and a stiff fabric on the hem to create generous movement as if the garment was caught in a storm, it was also funny to use the full circle skirt as a base as a reference th Christian Dior haute-couture and his New look silhouette.
The second step in the creation of the collection was to collect elements of mundane objects that are somehow part of this fantasized countryside and then give them a new dimension. I did research on the Alforn, a trumpet use to communicate in the mountainous region which became more of a traditional instrument of music. I wanted to reuse it, to give it yet again another dimension by creating those fitted long trousers which have a trumpet shape. It's all about reflecting with humor mankind's progress. I used the same technical development with the brooches, inspired by windmills, and with the shoes, which are Wellingtons.
Fräulein: How do you explain your style?
VC: Quirky. This word defines my work well. I think I have a certain kind of elegance in my designs, almost a bit old fashioned, that I always try to combine with some kind of humor or quirk.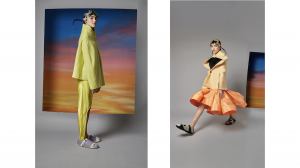 Fräulein: You have a very strong, almost monochromatic, use of colors. Is it a signature of your work?
VC: It's true that colors are essential for me. I find it to be a pretty direct way to convey emotion. In this collection, I wanted there to be a certain joie de vivre and I think that very instinctive and direct colors is the right way to convey this emotion. Why has my color range taken this direction? First, for a totally practical reason: I did with what I had due to the lockdown. I was very inspired by the range of colors from the maison Daume that I reused to build this collection.
The whole thing is unfolded in a very subconscious way through the course of my discoveries. I think that's really what caught the attention of people on this collection, thanks to this pretty strong color range.
Fräulein: Talk to us about your collaborations.
VC: If I could, I would collaborate even more. It's a very enriching process, a moment of sharing and discussion with a person or a team. I think there is a lot to be gained by associating with people who have an area of knowledge.
I had the opportunity to reuse the savoir-faire of Daume, coming from the north-east of France, this crystal factory which has a very important place in my childhood. I have a fascination for their chandeliers, their sculptures that they create in crystal with incredible colors. I wanted to create a new modernity with this know-how. I imagined these crystal locks of hair that take up the idea of being in the rain and offer a wet effect. Again, a reference to our relationship with elements of nature. For my shoes, it's Baptiste Faure, an ex-colleague from Margiela who helped me to create them.
Fräulein: What is your favorite look of the collection?
VC: I would say it's either the orange look or the rose one with the wide skirts. They are my favorites, but also my two biggest nightmares. They were quite complicated to made, especially the orange skirt made of nylon. All the seams to create the movement of the skirt are made by hand and it is a completely difficult material to pass the needle through. I killed my fingers doing all the seams by hand! Then, they were requested for a photoshoot and they come back all crushed, not looking like anything anymore. I had to go iron them and blow on the hem to give them their volumes back. It's endless!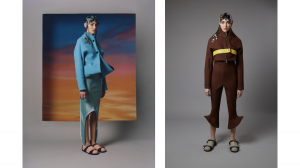 Fräulein: What are your future plans after Central Saint Martins?
VC: For now, I am in a rather transitional period. I would love to find a way to continue my practice in one way or another. I try to see the opportunities that present themselves to me, and I try to find a way to push this collection a little further, to do some things that I did not have time to do for "a sip of fresh air" and to enrich the collection that has only 8 looks at the moment.
Fräulein: How would you describe the people who are drawn to your clothes?
VC: Someone with strength of character, someone openminded, determined, with humour and real human warmth. She can be a businesswoman or an actress… It would probably be me as a woman, or an idealised version of me as a woman.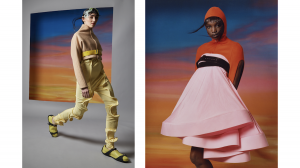 Fräulein: What is the idea behind the super high-waisted proportions of your signature silhouette?
VC: It's been a long time since accentuating the waist, and again, there is this reference to the new Look of Dior which created a volume at the hips with a very affine waist. The goal is to push all the proportions up and to have this belt that marks at the chest. Then all those ideas are mixed with other references, like the traditional Swiss costumes of very high shorts with a harness that straps the chest. It was a mix in my creative process of many references that led me to place the waist super high.
Fräulein: Your favorite designer?
VC: Miuccia Prada
Fräulein: Your astrological sign?
VC: Pisces, in sun and moon. Not an easy everyday!
Fräulein: Minimalist or Maximalist?
VC: I would say minimalist.
Fräulein: Favorite color?
VC: Yellow! The color of my label.