At the rising of the year, we all got used to watching films from the comfort of our living rooms and beds. And while we all miss the ambiance of the cinemas, My French Film Festival decided to keep it 100% digital, to keep the passion and inspiration of the 7th installment of their festival alive, well, and accessible to all.
For the very first time the French language film festival is accessible worldwide on different platform and even for free in certain areas (our dear Polish readers are part of the lucky ones!). Its 11th edition will once more offer to film buffs 10 feature films from different formats in competition, as well as several films out of competition, all subtitled in 10 languages.
This high scale gathering of the cinemas industry will be a competition for French films, judged by an international panel of jurors. The price (equivalent to a movie ticket) includes a public vote for all viewers as well as the ability to share and discover French cinematographic culture.
For our readers getting bored of re-watching their favorite movies again and again, or trying to shy away from Netflix and Amazon algorithms, here is a great opportunity to try something different. With such a diverse selections, we are sure that you will find something suiting your needs. Cinephiles from around the globe can find all information on My French Film Festival. In the meantime, may we all continue to manifest a swift return to the darkrooms!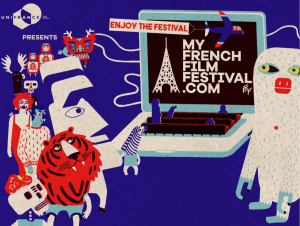 FOREVER YOUNG
ADOLESCENTES de / by Sébastien Lifshitz
TU MÉRITES UN AMOUR / YOU DESERVE A LOVER de / by Hafsia Herzi
ENTRACTE / INTERMISSION de / by Anthony Lemaitre
UN ADIEU / FIRST GOODBYES de / by Mathilde Profit
CRAZY LOVING FAMILIES
de / EN by Sophie ÉNORME Letourneur
FELICITÀ de / by Bruno Merle
JUST KIDS de / by Christophe Blanc
FAMILLE NUCLÉAIRE / NUCLEAR FAMILY de / by Faustine Crespy
SOLE MIO de / by Maxime Roy
TRUE HEROINES
CAMILLE de / by Boris Lojkine
FILLES DE JOIE / WORKING GIRLS de / by Fr & Anne Paulicevich
KUESSIPAN de / by Myriam Verreault
FILLES BLEUES, PEUR BLANCHE / BLUE FEAR de / by Lola Halifa-Legrand & Marie Jacotey
MOTUS / NOT A WORD de / by Élodie Wallace
FRENCH GHOST STORIES
ORPHÉE / ORPHEUS de / by Jean Cocteau
VIF-ARGENT / BURNING GHOST de / by Stéphane
EMPTY PLACES de / by Geoffroy de Crécy
LA VIE DES MORTS / LIFE OF THE DEAD de / by Arnaud Desplechin
ON THE ROAD
LES HÉROS NE MEURENT JAMAIS / HEROES DON'T DIE de / by Aude Léa Rapin
JOSEP de / by Aurel
CLEBS / MUTTS de / by Halima Ouardiri
LOVE IS LOVE
MADAME de / by Stéphane Riethauser
BEAUTY BOYS de / by Florent Gouëlou
FRIEND OF A FRIEND de / by Zachary Zezima
MISS CHAZELLES de / by Thomas Vernay
KIDS CORNER
MAESTRO de / by Illogic
LE MONDE DE DALIA / DALIA'S WORLD de / by Javier Navarro Avilés
028 de / by Otalia Caussé, Geoffroy Collin, Louise Grardel, Antoine Marchand, Robin Merle & Fabien Meyran
LE SPECTACLE DE MATERNELLE / THE KINDERGARTEN SHOW de / by Loïc Bruyère
UN LYNX DANS LA VILLE / A LYNX IN THE TOWN de / by Nina Bisiarina
VR EXPERIENCE
ODYSSEY 1.4.9 de / by François Vautier
SATURNISM de / by Mihai Grecu
RECODING ENTROPIA de / by François Vautier
Text by Marien Brandon