X-Max Calendar: Day 3
vor 2 years
How about some togetherness?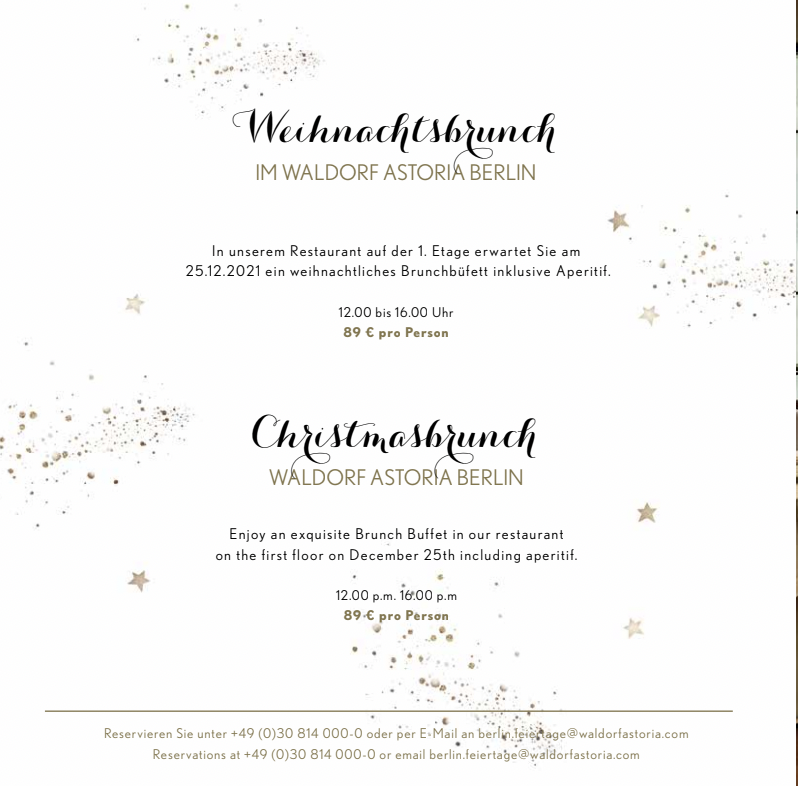 After a contemplative Christmas Eve, it's now time for some time for two in a very special setting: The Waldorf Astoria is more than just a place that exudes the flair of pure exclusivity, it's also where world-changing decisions were made in the past.
In New York, it truly evolved into a landmark of palpable elegance. This story now continues in Berlin, where the Waldorf Astoria rises as an icon designed in the Art-Déco style and one of the highest buildings in Berlin, considered a symbol of free spirit. And this was precisely what attracted a wide variety of free spirits.
From Bertolt Brecht, Otto Dix to Billy Wilder, the regulars of the so-called ROCA restaurant, which derives from the Romantic Café, range. In the end, even the ceiling painting there was dedicated to them.
But the Waldorf Astoria is not only a place to ponder upcoming decisions in a quiet yet thoughtful setting, or to have a deep conversation with a loved one over a good glass of champagne, it also once opened its doors for charity events and balls. The John-Jacob-Astor Ballroom, a place where meaningful events still find a place, offers the opportunity to do so. In an impressive setting of amazing architecture, a perfectly coordinated mixture of glass, mirrors and light shows in a space of gathering, which provides room for new stories.
For our third Adventscalendar day, the Waldorf Astoria would like to invite you to experience the impressions that are anchored in the walls of the iconic building and to write your own story. They will welcome you and your companion for a beautiful Christmas brunch buffet on 25.12.21.
What you need to do? 
Send a loveletter to gewinnspiel@fraeulein-magazine.eu
Follow us on Instagram on @FRAEULEINMAGAZINE
Good Luck!
*Participation until end of the day, Winners will be contacted directly
Verwandte Artikel