In an experimental love letter to herself, women's wear designer Clementine Baldo challenges society's beauty and sexuality standards through exploration of the monster.
The mutant produce of nuclear warfare meets a seductive siren, post-oil spill. With bulbous bulges, gloopsy slime, hairy fraying and reptilian skins, women's wear designer Clementine Baldo explores beauty ideals and the monstrosities of womanhood in her experimental collection, little monster.
Baldo, 23, was born in Normandy, France to an opera singer and an engineer. After graduating with a degree in design from Institut Français de la Mode, Baldo had a stint designing at Jean Paul Gaultier, leaving to further qualify at Central Saint Martins in pursuit of building her namesake brand. "I think London nurtures the experimental and crazy designs that I want to create," she says, looking down at her slightly chipped cobalt blue nail varnish – a shade that perfectly matches the outline of a small fish, permanently doodled onto her wrist.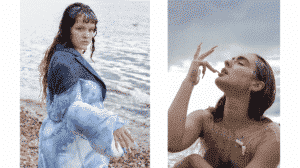 Fascinated by all things mystical as a child. Obsessed with the supernatural as a teen. And, inspired by the likes of Emil Ferris's My Favourite Thing is Monsters, This Young Monster by Charlie Fox, Coppola's Dracula and Matthew Barney's post-human characters in Cremaster – Baldo has always been a fanatic for things that deviate from the norm.
The effortlessly stylish designer tousles a hand through her messy blonde hair as she ponders the words in English: "I am disturbed yet so attracted to the monster; the wrinkles, scars, hair, slime and flesh. A monster can have features that society has made us think women cannot. During lockdown, I began to explore and play with my own body. Is my own body monstrous?"
After over a year of lockdown restrictions, the dance floor is in sight. But, as we re-enter society, many of us face exacerbated insecurities and anxieties about our form. We are plagued by unrealistic beauty standards and expectations, set by patriarchal trickery and catalysed through social media and economics. Women are lead to believe that to be 'beautiful' they must have small noses and wide eyes, no wrinkles, spots nor scars, a tiny waist and perky breasts. No cellulite. And body hair? None. Baldo simplifies: "It's easier to be a monster than a woman."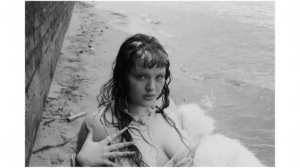 The young designer craves to dispel these myths, showing the beauty within the normal, or… the 'ugly'. Little monsters plays with features like body hair and body fat to normalise normalities.
"I am obsessed with breasts… saggy breasts, so the collection is full of bust, and volume and shape," Baldo says. Elastic and string-drawn corsets accentuate flesh and bosom into rolls and deformities. She even uses a scan of her own boobs for a colourful print on a quilted, cropped top.
PVA-coated tulle trousers resemble crunchy, scarred skin, whilst combinations of chiffon and vinyl engineer textures that feel claustrophobic. "Using a home-made slime, made from PVA, shaving foam, cornflower and saline solution, I created a mouldable filling, which I put into a waterproofed technical fabric making bulges that you can imprint if you grab or squeeze. It's like when someone gropes you, when you don't want to be touched."
Baldo invited me to watch the collection's shoot, which took place at Greenwich Beach, London. On set, the models (or should I say monsters?) dragged themselves and their weighted attire out of the water, by their long, creepy talons, onto the pebbled bay. They were sticky and dank, oozing with honey, Vaseline, baby oil – and soaked through with Thames river water. "I want them to look like they have crawled through a tunnel of cum. I want them to be loud, to behave heavily and authentically, to be uncouth," Baldo says.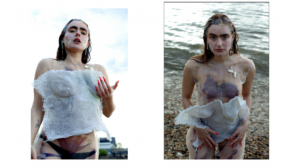 A woman who refuses to conform to the set boundaries of her gender can be labelled as deviant, unfeminine and unnatural. The monster breaks binary and social order whilst embodying difference. Baldo's collection is seemingly 'grotesque', however it is beautiful in its re-appropriation of human form and defiance of social pressures.
But, we know this already. We recognise the pressures women face to meet society's beauty and sexuality standards. To avoid repeating ourselves in an echo chamber of our own point, what can we do to step beyond this? What can designers like Clementine Baldo do to aid genuine progression beyond just a statement?
Baldo finishes: "After designing this collection, I feel so much more confident and familiar with my own body. In a way, it's a love letter to myself. Being a monster can be very beautiful." Le freak c'est chic.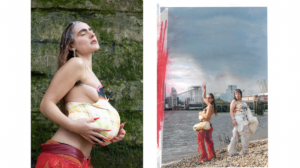 Imagery by Bluebell Ross. Words by Rose Elizabeth Dodd. Fashion by Clémentine Baldo.