90ies fashion: Der ewige Klassiker – Jeans und weißes Shirt
vor 8 years
Als Outfit-Klassiker der 90er Kultserien gehört der Jeans-weißes Shirt-Kombination ein Platz im Modeolymp an. Ein kleiner Exkurs zu unserem Kleiderschrank-Liebling.
"Seinfeld- the show about white people in New York eating pickles and shit […]" – eine akkurate Zusammenfassung eines Twitter-Users, dessen humoristische Observationskunst es ins amerikanische Latenight-Fernsehen von Jimmy Kimmels Mean Tweets schaffte.
Larry Kings Serie Seinfeld steht neben seichten bis ausgeklügelten Witzen Jerrys und den Eskapaden des neurotischen Publikumsliebling Georg und der gelockten Ex-Freundin Jerrys Elaine für modische Narrative der Mode der 90er. Hauptfigur Jerry trägt in seiner Freizeit gerne weiße Sneaker, babyblaue High-Waist Jeans kombiniert mit Turtlenecks und wahlweise Caps als Kopfbedeckung.
Serienkollegen von Friends, Beverly Hills, 90210 und Co machten es nach. Ob Everybody's Darling Jennifer Aniston als Rachel oder die Clique um Brenda, Donna und Kelly in Beverly Hills – der Outfit-Klassiker in weißem T-Shirt und schmeichelndem Denim um die Hüften war ein gern gesehener Gast der Modewelt der 90er und auch heute noch unser Liebling.
Zwischen übereifrigen bis waghalsigen Kombinationen von Schulterpolstern und Blümchenprint aus den 90ern hat sich die simple aber coole Klamotte bis heute bewährt. Fragt man Modeikonen aus der ganzen Welt, wie sie sich in ihrer Freizeit kleiden oder welches das einfachste und tollste Outfit ist, dann fällt die Antwort immer wieder auf unseren Liebling. Unisex, casual und lässig flimmerte dieser Aufzug auf den Bildschirmen der Kultserien, die unsere Herzen höher schlagen ließen und uns nachgiebig beeinflusst haben.
Doch warum eigentlich so cool? Weniger ist mehr – das gilt als Leitmotiv bei diesem Klassiker. Einfach und nicht zu angestrengt wirkt der Look. Kramt man in der Geschichte der Mode, findet unser Liebling seinen Beginn im 19. Jahrhundert. Levi Strauss gilt als offizieller Erfinder von Jeans. Als neuangekommener Einwanderer in den USA im Jahr 1847 fabrizierte er mit seinem Kollegen Jacob David robuste Arbeitskleidung für Minenarbeiter. Im Laufe der Jahre wandelte sich die Jeans von der Arbeiterkutte zum Symbol für Proteste gegen Autorität. Filmstars wie James Dean machten das Kleidungsstück zum nachgeahmten Publikumsliebling. Seit dem etabliert als gängiger Gast der Popkultur finden wir in den verschiedensten Spektren und Genres wie Pop, Rock und Hip Hop die populäre Kombination. Mit solch einer Erzählung und der nötigen glamourösen Unterstützung formierte sich ein modischer Stil, der zeitlos währt und für jeden tragbar ist. Komplementär gehen Denim und weiße Baumwolle seitdem einher!
Merke also: eine solide Menge Denim um die Beine mit Perlweiß aus Baumwolle plus weiße Ledertreter ob Reeboks, Chucks, Superstars oder Nikes – geht immer! Altbewährt und dennoch cool. Unser Liebling des Tages!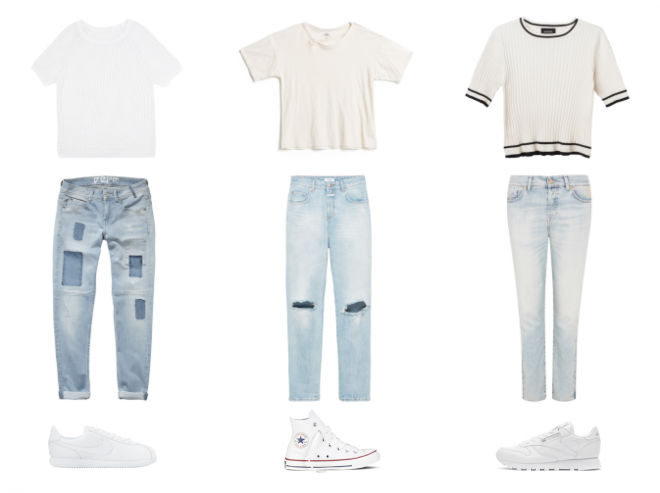 von links nach rechts, von oben nach unten:
weiße T-Shirts von Sandro, Citizen of Humanity und Monki, Jeans von Pepe Jeans, Closed und 7 For All Mankind, Sneaker von Nike, Converse und Reebok
Bilder via Pinterest
Beitrag: Samira Ghoualmia
Verwandte Artikel